---
2022 Hyundai Kona Colors
The Hyundai Kona was released in 2018 to wide acclaim. Named after the Western district of the island of Hawai'i, the Hyundai Kona name evokes the lush tropical flora and fauna of island life. You'll see this focus in the varied Hyundai Kona colors, which outside, encompass such options as "Surf Blue", "Teal Isle" and "Thunder Gray". Inside, you'll find standard black and gray hues for a serene feel. Ready to learn more about the Hyundai Kona colors for 2022, which are as diverse as the lights you'll find on the Vegas strip? Let's dive right into the colorful world of the 2022 Hyundai Kona now! Have questions as you read? Contact us anytime!
Exterior Hyundai Kona Colors
Passersby on Paradise and North Las Vegas roads won't miss the 2022 Hyundai Kona driving by — not with such amazing color options! There are several standard colors to choose from among the Kona SE, SEL, N Line, and Limited trims. See the complete list of 2022 Hyundai Kona colors by trim level below:
Hyundai Kona SE
Sonic Silver
Pulse Red
Teal Isle
Cactus Fern
Ultra Black
Chalk White
Thunder Gray
Surf Blue
Hyundai Kona SEL
Teal Isle
Cyber Silver with Black roof
Pulse Red with Black roof
Ultra Black
Lunar White
Thunder Gray
Blue Wave with Black Roof
Cactus Fern
Hyundai Kona N Line
Blue Wave
Pulse Wave
Thunder Gray
Ultra Black
Lunar White
Hyundai Kona Limited
Cyber Silver
Blue Wave
Pulse Red
Cactus Fern
Ultra Black
Lunar White
Teal Isle
Thunder Gray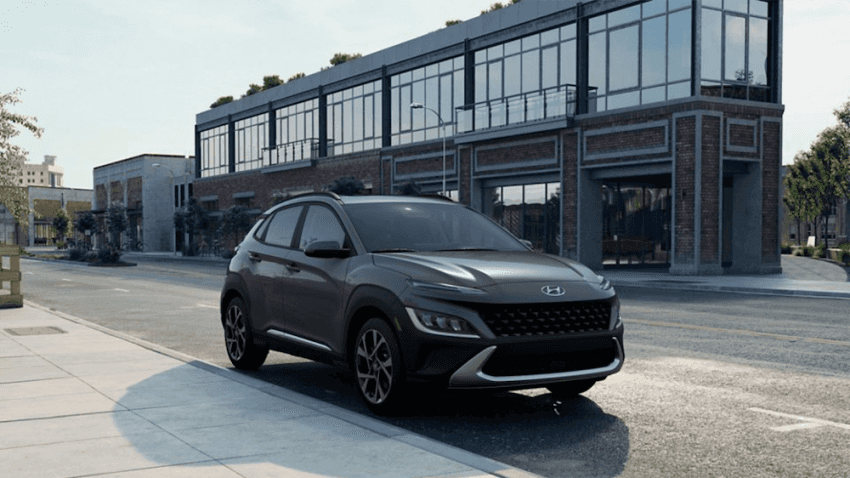 Interior Hyundai Kona Colors
The Hyundai Kona Colors are as loud or quiet as you want them to be outside. But step inside the Kona and your eyes will be delighted by a neutral palette that exudes sophistication beyond what the Hyundai Kona sells for in Henderson:
The 2022 Hyundai Kona SE and SEL boast your choice of Black or Gray cloth seating and upholstery
If you're looking for even more luxury design and accents, you can choose between Black leather or Gray leather to adorn your cabin when you upgrade to trims like the Hyundai Kona Limited
The Hyundai Kona N Line includes N Line Sport Seats in Black.
See the Hyundai Kona Colors for 2022 at Hyundai of Las Vegas!
Now that you know more about the basics when it comes to the Hyundai Kona 2022 colors, would you like to learn more? We're here to help at Hyundai of Las Vegas! Give us a call at 725-256-0546 anytime for answers to your questions. Meanwhile, don't be afraid to browse our Hyundai research page to learn more. Ready to take home a Hyundai Kona that's tailor-made for you? Custom order it now!